With thirty faculty members and about 450 full-time undergraduate and graduate students, the Illinois State University History department is one of the largest in the state. We offer over 100 undergraduate and graduate courses, which range in time from ancient history to the present, in area from North America and Europe to Africa, the Middle East, East Asia, and Latin America, and in scope from politics, economics and religion to diplomatic, cultural, social, intellectual, and military history.
Stop By

Find us in Schroeder Hall 301

Contact Us

Mailing Address

Department of History
Illinois State University

Campus Box 4420
Normal, IL 61790-4660
Welcome from the Chair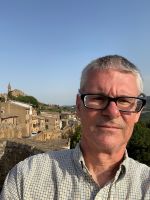 The History Department proudly exemplifies Illinois State University's claim to combine the opportunities of a major research institution with the attributes of a small college.
On the one hand, thanks to a large and diverse faculty of active scholars, History can offer nearly one hundred challenging undergraduate and graduate courses in subjects ranging from Ancient Greece to the Modern Middle East, from African-American history to the history of genocide.
On the other hand, our college atmosphere translates into small class sizes, individualized attention for students--especially when they conduct research projects in close collaboration with faculty mentors--and a commitment to teaching excellence that stems from our important mission to train future History-Social Sciences educators.
With a liberal arts background that includes strengths in critical thinking and written communication, students graduating from our program succeed in myriad fields such as business, law, and journalism. Many also pursue graduate education at prestigious institutions nationwide. And of course they excel in classrooms of their own as teachers.
Since 2010 History faculty and staff have received 46 major university or college awards for teaching, research, or service, while since 2008 they have published 48 books. History has multiple Presidential or University Scholars, while since 2018 six students have garnered Bone Scholarships, ISU's most prestigeous academic award.
These figures provide a snapshot of History's high-quality intellectual environment, in which students gain self-knowledge, valuable skills, an understanding of the world around them, and an appreciation of the worldviews and value systems of people in other times and places.
"The past is a foreign country." Enjoy the journey!
Dr. Ross Kennedy
Chair, Department of History